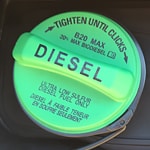 With the Ford F-150, you have a range of engine options to choose from. Our team here at Frontier Ford Inc. in Diamondville, WY can help you find the right engine for the job and the available 3.0L Power Stroke Turbo diesel balanced performance with fuel efficiency.
The Power Stroke Diesel can provide you with an impressive amount of towing capacity at 11,500 pounds and haul up to 1,940 pounds as well. This is thanks to its 250 horsepower and up to 440 lb.-ft of torque.
Where it shines, even more, is its fuel economy. This 3.0L Power Stroke diesel engine gets an impressive 29 mpg on the highway. That's on top of the 21 mpg in the city. Its paired with a 10-speed automatic transmission as well that has drive modes such as EcoSelect to help you get the right balance of power and fuel economy.